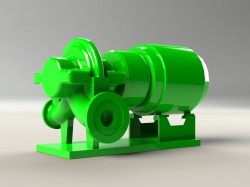 Guaranteeing a reliable supply of drinking water and the possibility of actually being able to generate energy through new technologies such as pumps and turbines, makes water technology a particularly interesting market in the Arab World. The shortage of water in the Arab World represents a huge public issue and the willingness to invest in this area is particularly high. As a rule industrial, as well as public and private usage, requires large quantities of water. The staff members of Sand-Innovation will advise and support you with the decision on what pumps are the most suitable for your project,
be it pumps whose purpose it is to extract water from the sea, rivers, lakes or wells, or pumps deployed for water treatment or water transmission.
When it comes to water technology, again we work with top-notch partners. We can offer you optimal service solutions in collaboration with these. A functional modular system allows for the uncomplicated and cost-effective conceptualisation of tailor-made pump installations to meet your requirements and conditions on site.
Water turbines: Pump water to generate energy
The demand for reverse pumps that work as turbines has increased dramatically in the past few years. Currently a large proportion of electrical output in water transport systems or in industrial plants is negated by throttle devices. The deployment of water turbines could prevent this without technical expenditure.
Deploying pumps as turbines is well worthwhile since investment costs are negligible and as a rule the efficiency level that can be achieved with the electricity generated is excellent. Furthermore water turbines are ultra-resilient – service and maintenance costs are therefore kept low.
Pumps serving as turbines are primarily deployed where pressure differences and flow rates in a plant can be taken advantage of. They represent a very economical option that is easy to translate into technical terms when it comes to generating and recovering energy. The water turbines can be deployed in just about any area: For water transmission systems before feeding into water tanks; for small hydroelectric installations; for industrial plants as a replacement for throttle installations; for oil supply systems; for chemical or petrochemical processes etc.
The electricity generated can either be fed into the public electricity grid or put at the disposal of own users on site. Furthermore, it is also possible to connect up a water turbine directly to a processing machine thereby taking the pressure off the drive or even completely replacing it.